We appreciate your support!
HOPE Dementia Support has served many thousands of people. Our support groups are always free to attend. We rely on donations and support from people like you.
Please consider a recurring monthly donation or a one-time tribute gift in the forms below.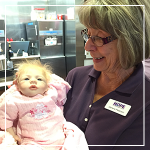 HOPE has seen it happen – the power to calm and comfort people with dementia by using a therapy doll. Research has proven that doll therapy has a positive outcome in reducing negative or challenging behaviors.
Our dolls are made by Gail Raines, creator of GigiBeans sprouts and are made to look and feel like newborn babies. Each doll costs $200.
Help us keep this program going.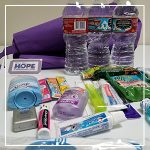 HOPE designed our comfort bag to let the caregiver know that even when the end of the journey is near we will still be there for them. In our bags are comfort items, Kleenex, lotion, Chapstick, healthy snacks, bottle water with flavor sticks, to name a few. The facilitator of the group they attend delivers the bag and offers support.
Help us give more free bags.
Can you imagine that you reach the milestone anniversary of 50 years and yet your spouse has no idea? It is HOPE's goal to still honor that day. We will bring in a catered dinner on china. Even though the person with dementia may not understand, the caregiver or spouse does, and can celebrate the occasion. We also celebrate milestone birthdays. We work with the family to determine what they think the person with dementia would have liked for a celebration.
Help us give more celebrations.
HOPE support groups are always free to attend.  All our facilitators volunteer their time.  They attend training, and backgrounds are checked before they can begin facilitating.  Of course there are many expenses for the training and for the facilitator.
Help us keep this vital program free of charge.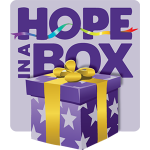 HOPE in a box is our goal for 2018.  We have spent countless hours putting together a training manual. When you purchase HOPE in a Box you will receive all our training materials and all of our forms to be able start your own HOPE Dementia Support Group in your town.  We will also provide training to get you up and running. Your dollars ensure we are ready to be in your area in 2018!
Help us expand this program.
A great deal of resources go into community outreach and keeping our information up to date and FREE to our members. We pay out of pocket for the experts that we enlist to help us with marketing and outreach.
Help us keep HOPE alive by donating.
General Recurring Donation
Donate a monthly recurring amount  to go toward HOPE programs.
Tribute Donation
 A memoriam donation to HOPE in the name of a loved one or friend.
HOPE is also a member recipient of these great retail programs:

Did you know you can link your Fred Meyer Rewards card to "Hope A Dementia Support Group" which provides a donation to our cause when you shop.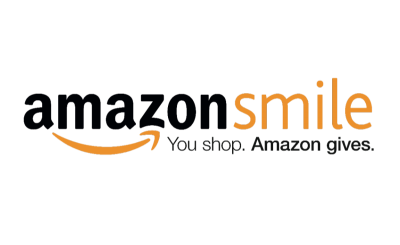 Shop at Amazon a lot? Please sign up for Amazon Smile and link your purchases up to : "Hope A Dementia Support Group," and a portion of your purchases will go to our cause.